Solving some of the world's greatest health challenges
Neurovalens is a global health-tech company that creates non-invasive neurostimulation products used to solve some of the world's greatest health challenges.
Our medical device technology offers unparalleled transdermal activation of the homeostatic nuclei of the brainstem and hypothalamus, allowing for alterations in autonomic function, circadian regulation and Neuro-metabolic influence.
Our core values hinge on the generation of robust clinical data that provide meaningful outcomes throughout the lives of our patients. Neurovalens technology aims to provide drug-free solutions to the worlds, greatest health epidemics.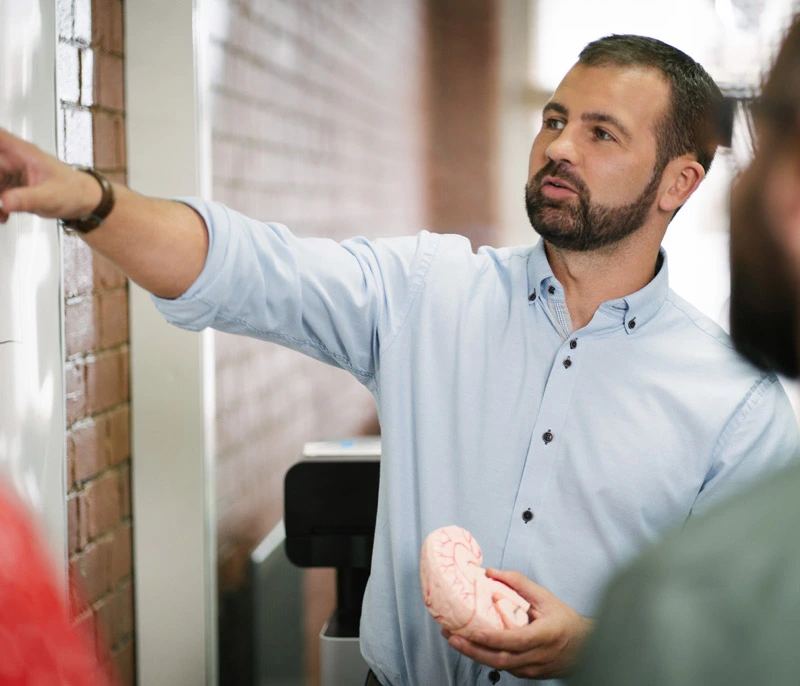 Merging Neuroscience & Technology
Applications for Neurovalens Technology
Type 2 Diabetes / Obesity
Primary Target:
Central Melanocortin System (CMCS) & Arcuate Nucleus (Hypothalamus)
Secondary Target:
Dorsal Motor Nucleus of Vagus & Nucleus of the Solitary Tract (Brainstem)
Our goal in type 2 diabetes is to improve glucose and insulin regulation and therefore positively influence HbA1c. Optimization of the central melanocortin system and regulation of the vagal nerve afferents are the primary target areas to allow better glycemic control and potentially reduce the need for pharmaceuticals. Poor regulation of metabolic homeostasis drives the development of obesity. Neurovalens targets key hypothalamic and brainstem nuclei involved in the neuro-regulation of body composition, with the aim of improving this dysregulation at source.
Insomnia
Primary Target:
Suprachiasmatic Nucleus (SCN) (Hypothalamus)
Secondary Target:
Intergeniculate Leaflet (IGL) (Thalamus)
Homeostatic centers within the hypothalamus and thalamus regulate the circadian rhythm the and sleep wake cycle. Neurovalens' technology actively stimulates the SCN and IGL in a way that improves both sleep quality and duration.
Anxiety
Primary Target:
Locus Coeruleus (LC) (Brainstem)
Secondary Target:
Paraventricular Nucleus (PVN) (Hypothalamus)
Regulation of the parasympathetic and sympathetic pathways of the autonomic nervous system in response to stress can be influenced via the LC and the PVN. Connections to these centers via the medial vestibular nucleus allow both to be non-invasively targeted.
Diabetes is a chronic disease, that causes blood sugar levels in your body to become too high, either due to your body not being able to respond properly to insulin or due to your body not being unable to produce any at all. If left untreated, this can lead to serious complications such as heart attack, stroke, obesity, eye disease, kidney disease
 and
 nerve damage.
There are nearly one billion people worldwide who suffer from mental disorders. There is a stigma surrounding mental health making it difficult to speak up and seek help.
Covid 19 has been a huge impact on people's mental health all around the world. Within the first year of Covid-19, there has been a 25% increase in anxiety and depression worldwide.
Sleep is an important factor to help maintain health and well-being. It's recommended that an adult should get at least 7 hours of sleep a night. Getting a good night's sleep has many benefits such as better memory, reduced stress levels and lowers the risk of heart disease.