Modius Sleep User Testimonials
"The headset is really easy to use. I found a positive impact on my sleep. If I woke up in the middle of the night, I was able to get back to sleep really quickly."

Corrina

"I had a better quality sleep, I woke up feeling refreshed and feeling like I had a proper nights sleep, which fed through to a better mood during the day."

Simon

"Modius Sleep was something new, something different and exciting. For the first time in a long time I was getting a consistent night's sleep, every night."

Colin

"After using the headset I found it so much easier to fall asleep. My head would hit the pillow and I would be out. The next day I would be up and ready to go, which I wasn't used to."

Andrew
Modius Sleep Technology
The app is used to start and manage the device. You can adjust the stimulation intensity levels to suit.
It also features a built-in session & sleep log, optional session reminder notifications, and a searchable user guide.
The app is compatible with iOS 10 or higher, Android 5 or higher. It can be downloaded from the App Store or Google Play.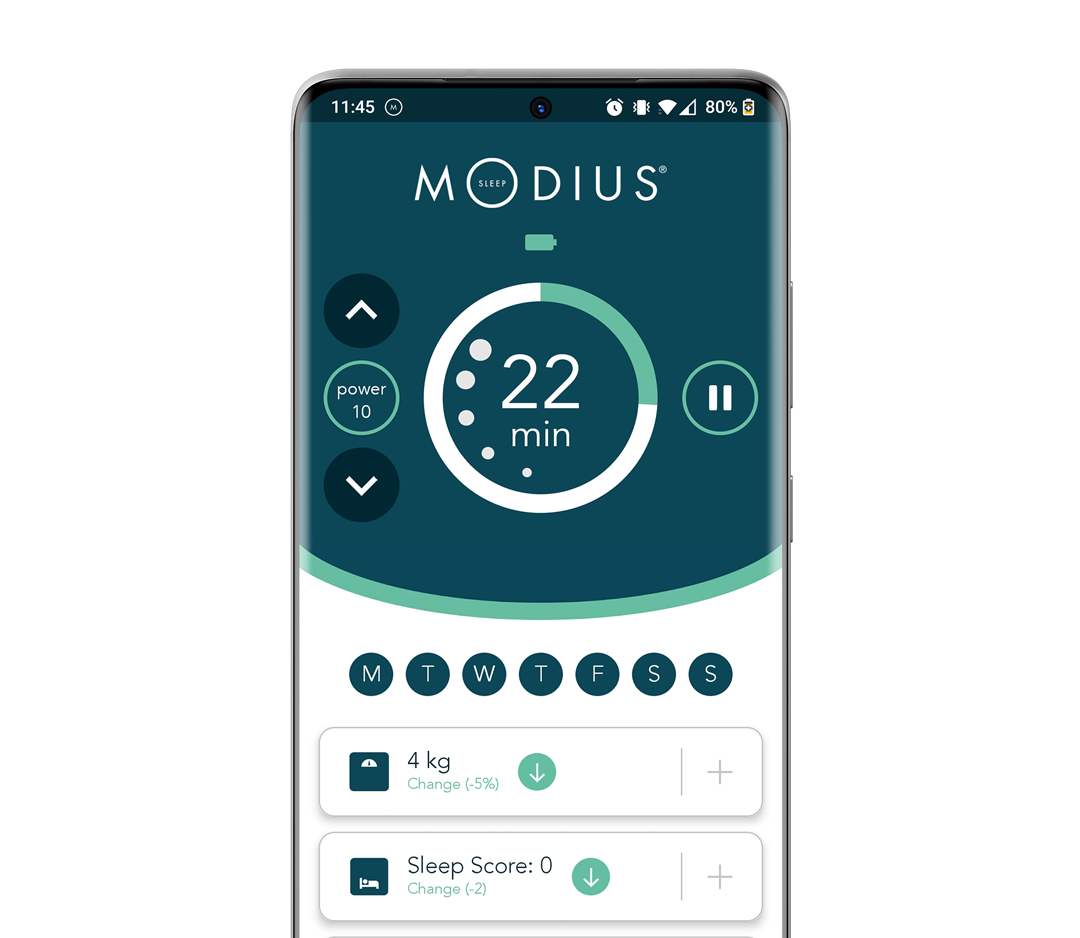 Whats in the Box? / Technical Specification
Modius Sleep comes with everything you need to get you started.
Modius Sleep Headset
Charging Accessories
Modius Sleep User Manual
Modius Sleep Quick Sart guide
150
Stimulation Pads
150
Skin Cleansing Wipes
Battery Type
Lithium Polymer
Battery Life
≈ 5 days
Charge Time
90 minutes
Charging Port
Micro USB
Connectivity
Bluetooth LE
System Requirements
iOS 10 or higher, Android 5 or higher
Size
Height 170mm, Width 85mm, Depth 155mm
Weight
80g
Modius Sleep FAQs
Who is Modius Sleep for?
Modius Sleep is for anyone who has difficulty sleeping – whether you are someone who has trouble getting to sleep, wake up during the night and can't get back to sleep again, or constantly feel that you're not getting enough sleep.
9 million Americans and 20% of the world population use sleep medications, drugs or alternative products to manage their sleep. Modius Sleep is a drug-free alternative that will positively influence the body's circadian rhythm rather than simply masking the problem.
How does Modius Sleep work?
Modius Sleep works by sending a safe electrical pulse into the vestibular nerve, influencing the areas of the hypothalamus and brain stem that control circadian rhythm and sleep patterns.
Do you wear Modius Sleep in bed?
No, Modius Sleep should be worn in the evening before bed, ideally as you are starting to wind down for the night. It is not intended to be worn in bed.
Will I still need to use sleep medication?
We would expect that you should be able to reduce your reliance on sleep medication, and hopefully in time not require any other sedatives or tablets to be able to achieve a good night's sleep.
How soon can I expect to notice the benefits of Modius Sleep?
Some people may notice improvements in their sleep from as early as the first night or two. However, for others it will take longer – and there will be some people who's sleep will initially be more interrupted before it starts to improve. This is perfectly normal and it's worth persevering whilst the body adjusts to the vestibular stimulation.
If you find your sleep initially worse when starting to use the headset, we would recommend changing the time of day that you use it, so perhaps trying to run your session earlier in the day.
Can Modius Sleep help with jetlag?
The headset is not being marketed as a cure for jetlag. However, we believe there could be a positive influence on circadian rhythm, given the areas in the brain that are being stimulated.